---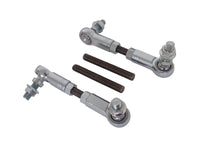 Endlinks are considered a wear item on most sway bar systems, especially with race use and high sway bar rates. Karcepts has spec'ed the Karcepts ND Front Sway Bar Kit endlinks to achieve the greatest life possible. However, the rate at which wear occurs will depend on the usage. Lighter sprung chassis have observed the highest endlink wear rates. For this reason, we recommend customers racing in the SCCA Solo C Street Class (which mandates usage of the soft factory springs) to inspect and potentially replace their Karcepts endlinks once a race season. ND Miata competitors in SCCA Solo STR (Street Touring Roadster) Class along with those using higher sprung track setups can expect to get at least 2 full race seasons out of a set of Karcepts supplied endlinks.
Hard chrome plated balls, heat treated and zinc plated bearing races and bodies
Adjustable length via stainless steel threaded rods
Teflon lined joints for lubrication free operation
9,000+ lb radial load capacity
High preload for extended life
Sold in pairs
View the Karcepts ND Front Sway Bar Kit Installation Instructions for proper endlink setup and install.